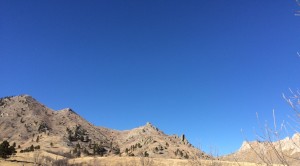 Longer.
This could be longer. This could be a long time. I can see us for a long time. Longer.
The words flash by; they slide by. I feel the need to reach out, to touch her.
"Yes." I know. I feel like I'm becoming visible. I've loved her for hundreds of years.
And my mind is catching on something. We're caught in this ballet, in this sweet chaotic choreography of emotion, like birds in flight. And my mind, lost in the joy of movement, is having a hard time with time.
It's always so.
I still play poker with guys I've known since I was seventeen.
Floyd, our family medicine man, told me last year "you're the only one who still comes around."
Time wants to have a battle with me in the badlands. I can feel it waiting in the ache of my bones, in the little heartache I feel when, far away, I wonder if she is okay. I sense it when my siblings, spread to the wind, are blinking on and off in my consciousness like Christmas lights.  Those are the hints on the horizon of that coming fight. Inktomi, the trickster, is there to witness. What time doesn't know is that the trickster is on my side.
After my cousin's open heart surgery, I kept flashing back to that time we walked down the street to go see a matinee in Greenwood, hand in hand. I was fourteen, he must've been 6 or 7. It was called The Sting.
Thinking of it makes me laugh.
I need to land for a bit, I know. She's talking about day to day practicalities. She needs me to say something. I'm learning the ebb and flow of our dance.
"Wow". Longer would be better. Time to heal would be better. No more battles, not for today -my love is here. Let's make it a river. It's so fucking me.
Then, I remember, I'm the one who mentioned time.
It's why we have gods.
It's a river, baby. "Looking like a big one," he says with his gap toothed smile.